World Export Thailand launched sourcing site for Asia with Websamba MC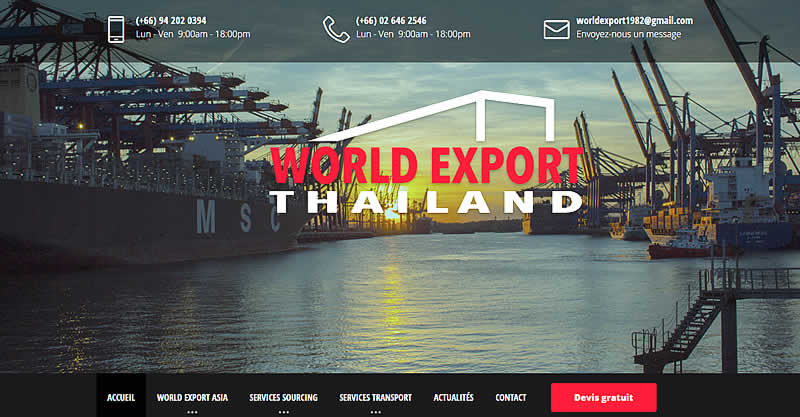 26/12/2016, Bangkok (THA) - World Export Thailand just launched its new website World Export Asia, created by digial agency Websamba MC to help businesses successfully complete their sourcing projects in Thailand and across all of Asia.
The sourcing specialist in Asia, World Export Thailand is based in Bangkok at the heart of the asian continent, in direct contact with the region's major financial and industrial plaftorms, and with a mission of becoming a trusted partner for all businesses involved in import-export between Asia and Europe, or anywhere in the world.
Build with a decidedly modern design, and an efficient user interface, the new website World Export Asia enbodies the company's vision, to provide every useful information and sourcing service throughout Asia by following a virtuous circle enclosing quality, respect, and trust, without ever sacrificing the human relationships which characterize the company.
"We wanted a website built to our image", explains Sebastien Dervillez, founder of World Export Asia, "and we've found in Websamba MC the ideal partner to develop our positioning with our international clientele".
Presenting a global service offer for sourcing in Asia that is close to customers in spite of the distance, World Export Asia aims at clinching a leadership position within a highly competitive market, most notably by conquering premium visibility in major search engines.
"Empowering World Export Asia with high performance optimization tools, we ensure our website enhanced visibility in the search results of every major search engine", says Chris Clavel, Director of Websamba MC. "We're very pleased to participate in the upbringing of this young and innovative business, and to keep on developing our client portfolio in Thailand, a country we know well and are very fond of", said Mr. Clavel.
After 5 years of intense activity, World Export Asia takes is gathering new momentum under the leadership of its dynamic french-thaï team, with the ambition of becoming a key player of sourcing with a french touch between Asia and the rest of the world.
---
Press Contact: Sebastien Dervillez - worldexport1982@gmail.com - (+66) 02 646 2546
---
About World Export Asia
World Export Asia is the main website for World Export Thailand, specialist of sourcing in Asia based in Bangkok, at the heart of the Asian continent, and in direct contact with the region's major financial and industrial plaftorms.
For over 5 years, World Export Thailand helps businesses of all sizes to organize, manage, and optimize their sourcing operations in Thailand and across all of Asia, with a global high-quality service offer with hyper competitive prices, and only one goal: your satisfaction.
For more information, visit http://worldexportasia.com, send an e-mail to worldexport1982@gmail.com or call (+66) 02 646 2546.
About Web Samba MC
Web Samba MC is a dynamic digital agency founded by Chris Clavel and specialized in website design, online marketing automation, including social networks marketing.
WebSamba MC provides high-performance and cost-effective online marketing services for small and medium businesses, allowing them to rank higher than their competition on major search engines.
For more information about WebSamba MC, please contact Chris Clavel by email at chris.c@web-samba.com or by phone at + (33) 675 637 635.